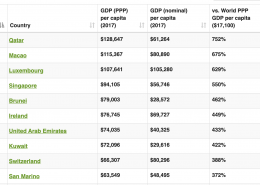 You might be thinking about settling down in another country, away from home. If you are like me who by all means is looking to settle in another country, then here are some of the best countries to live that you should be looking at.
Today, attention is so much on countries like USA, Canada and Europe in general. This is because Canada for example does a federal skilled program which grants people permanent residency. USA is also a great place to study and hereafter remain to find jobs.
Amidst these great opportunities, it is important to note that entry to these countries is not as easy as many people preach.
Also, consider the fact that while many people are aiming to migrate to these beautiful countries, it soon will become saturated thereby leading to too much supply of labour than demand
why you should look to these countries
Per-capital-income: The image on this post shows the details of these countries to live in respect to how much they make every year as revenue and how that translate to the average salary of workers in that country
Popularity: because these countries are not so popular; if you are like me who likes a quiet life out of the social media life and cheap popularity, then you should consider these countries to live.
Diverse Culture: We've seen all about the USA, Canada etc and the popular countries that a lot of people are envious of; but how about you experience the cultures of these countries. This makes you diverse
Language: Some of these countries are in Asia, like Singapore. If you can make it into this country for instance, you get to learn the language and this makes you multi-lingual
Inter-marriage and Relationship: Oh I am sure you've considered this at some point. For example in Ireland, if you are married to an Irish lady for 3 years and can show prove, you could get permanent residency. (I bet you didn't know that at all).
The next time you're listing the best countries to live in 2021 and you want to migrate, put all these thing in perspective and stop running after the difficult paths.