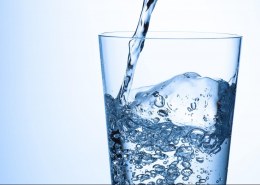 Like food, water is an important part of life, without it we will die faster. We can survive for days or weeks without solid food, but it is not easy without liquid. It is a very common substance in nature, more than 70% of the earth is made of it.
Life is believed to originate from the aqueous solutions of the world's oceans, and organisms rely on aqueous solutions, such as blood and digestive juices, to carry out biological processes. Water also exists on other planets and moons inside and outside the solar system. In small amounts, it looks colorless, but it actually has an inherent blue color due to the slight absorption of red wavelength light.
Water does not appear on most food tables or pyramids, but it is vital. You can argue that it is more important than cereals, because you cannot live without it, but you can live without bread.
The body can get about 20 percent of water requirements for solid foods. The process of digesting food also produces a small amount of it as a by-product that can be used by the body. In this way, the water supply that has been irrigated can provide approximately 10 percent of the body's water requirements. The remaining 70 percent that is needed for the body must come from the liquid.
Without liquid the body can't function properly and It'll stop working. Water has it's own benefits and excess lack of liquid causes dehydration, especially in extremely hot weathers when a person sweats. The body uses water to produce sweat, which evaporates and lowers a person's body temperature. Without it, the body cannot produce sweat. This can lead to a dangerous increase in body temperature and put pressure on the fluid in the body, including the blood
Ensure a lot of liquid intake throughout the day to avoid dehydration.