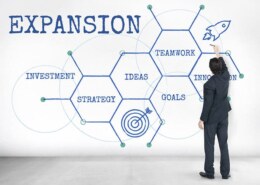 Business expansion is the stage where the business reaches a point of growth and seeks other options to generate more profits. Expansion is a very important aspects of a business. This is the desire of entrepreneurs because it adds to their credibility and success story. As the owner of a small business or start-up, you may want to expand the company. This may seem daunting, but it has many advantages. Although there are drawbacks, the advantages of business expansion will offset their shortcomings.
WHY EXPANSION?
PROFITABILITY: Your earning power increases.
VISIBILITY: You will be able to reach more customers who will benefit from your products/services.
HIRE MORE EMPLOYEES: You will be able to pay your employees more (increases motivation)/hire more employees (benefit to society).
COMPETITION: You will handle your competitors better due to your bigger size (better chances of survival).
EAGER TO DO MORE: Seeing your business grow can add more fire to your passion as an entrepreneur.
LOAN ACCESSIBILITY: Increases chances of getting loans and investors due to the size of the company (more credibility of the business).
DISADVANTAGES OF EXPANDING?
Pressure to grow could cause business owners to overlook resource availability.
Productivity and qualify are likely to drop if management and staff cannot cope with the extra work.
Hasty staffing may lead to poor job fit and high turnover.
A fast growth may also cause a loss of customer intimacy.
The business may become too busy and self-absorbed to notice the changing competitive landscape and customer behaviour.
WHEN YOU SHOULD EXPAND?
PRODUCT DEMAND: There is a proven demand for your products and/or services.
PRODUCTS ARE VALUED: Your products and/or services are priced correctly.
HIGH PROFITS: Profits are strong year after year, then it's time to expand.
COST CONTROL: Costs are consistently controlled, no spending more than budgets or accumulating debts.
AVAILABILITY OF RESOURCES: It might be a new office space, gadgets or staffs. Be sure your resources are available and they allow room for expansion.
Do not be scared of expanding, challenges are inevitable so brace up.