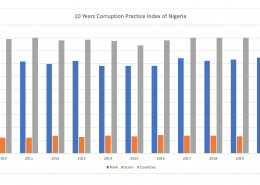 I am writing this post as a result of the research I carried out recently from the able recognized body dealing with corrupt practices in over 180 countries. Corrupt practices in Nigeria started as far back as 1975. The 1975 Nigerian coup d'état was a bloodless military coup which took place in Nigeria on 29 July 1975 when a faction of junior Armed Forces officers overthrew General Yakubu Gowon (who himself took power in the 1966 counter-coup). Obasanjo succeeded him as head of state.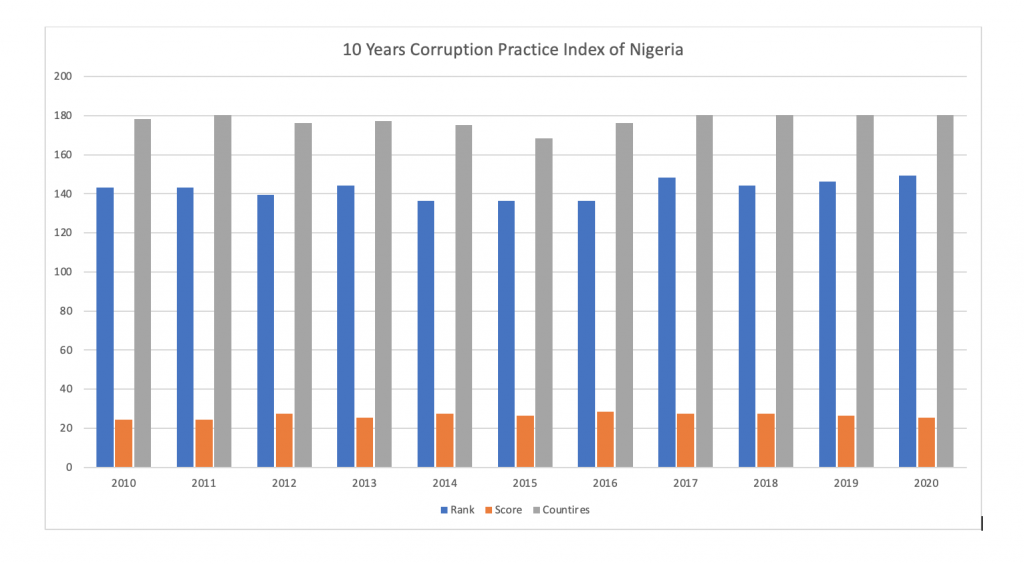 I have taken time to plot this chart here above to show you what the statistics of corrupt practices in Nigeria looks like with reference to the index. From the image above, you see Rank, Score and Countries. The Rank and countries are related. For example in 2020, Nigeria ranked 149/180. This means out of the 180 countries that were examined, Nigeria came 149th position which is an AWEFUL 82.7% corrupt. The score here is ranked /100 % ; so for 2020, Nigeria had 25/100. If I had a child who brings this result home, the child is grounded for sure.
Yet, you hear statements like this:
If a child fails in the class, won't the class teacher ask him to repeat?
Unfortunately, this is the narrative in Nigeria right now, where the ruling class as not ashamed of repeating terms and doing even worse than the previous term.
Explanation of the Chart
If you look at this chart properly, sometimes it will feel like Nigeria improved in a certain year than the previous but when compared to the number of countries for that year, then the result is fairly the same or even worse. For example, between 2014 and 2015, you have the same rank score of 136 which will seem like nothing happened , but compare the figures below, you see an increase from 77.7% to 80%
This also applies to the score as well in the corrupt practices in Nigeria. All the scores range between 24 to 28. It is safe to say that
In summary, the corrupt practices in Nigeria is not improving at all, rather it is getting worse especially under the Muhammed Buhari Administration since 2015 till date. From ASSU strikes to fuel pump price increase; a whole lot of other issues including insecurity; THE COUNTRY AND ITS ADMINISTRATION HAS FAILED