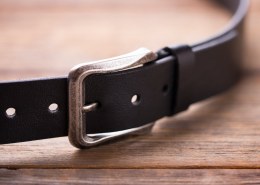 Probably your belt doesn't fit anymore because you've added a little weight during the holidays or working out and reducing inches, it's very easy to know how to add one or two new holes to the belt. You will see several different methods of punching: some involve tools that make the job particularly easy, while others allow you to do it with what you have.
Fortunately, there are various ways to add a hole to the belt yourself. No need to go out and buy a brand new one. As long as you know how to make holes in the belt, you can save money and at the same time keep your favorite fashion accessories.

THE NAIL METHOD
This method is one of the more traditional methods, and many professionals will also use this method to create a perfect round hole. One of the most significant advantages of the nail method is that the possibility of material tearing off the nail is greatly reduced. The newly made hole, it should look the same as the other holes on the belt.

You'll be needing;
Nail
Piece of flat wood
Measuring Tape
Plier

Step 1
Measure the holes (most are always one inch apart) Simply use a ruler to set up a horizontal straight edge by making sure it crosses each hole at the same point, and mark on the back.


Step 2
Heat up the nail for a minute by holding it with the plier.

Step 3
Keep your belt stretched firmly on the wood and point the nail to the spot you want to make a hole, and push into the belt. It makes a small regular hole very easily.

When the waist size changes, you no longer need to go to the store to buy a new belt. You can save money and don't have to get rid of your favorite belt. This is a win-win situation!
It is important we learn DIY hacks like this incase of emergencies.