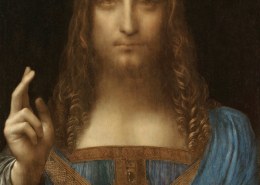 The most expensive painting Salvator Mundi meaning SAVIOR OF THE WORLD in English, is a painting by Italian artist Leonardo da Vinci dated to C 1500. After a lost original veiled with overpainting,the painting was rediscovered, restored, and included in a major Leonardo exhibition at the National Gallery, London in 2011-2012.
The SALVATOR MUNDI of Leonardo's most copied paintings h about 12 known examples executed by his pupils and others. Leonardo's version was thought to have been lost after the mid-17th century. In 1978, Joanne Snow-Smith developed a compelling case that the supposed copy located in the Marquis Jean-Louis de Ganay Collection, Paris, was the lost original, based on its similarity to Saint John the Baptist.
Many art historians were convinced, as she was able to establish a direct historical connection between Leonardo da Vinci, the engraving by Wenceslaus Hollar and the painting in the Ganay collection

The painting depicts Jesus in Renaissance dress, making the sign of the cross with his right hand, while holding a transparent, non-refracting crystal orb in his left. Leonardo Da Vinci studied many things, such as science, math, engineering, geology, astrology, literature, botany, anatomy, and so much more. His art SALVATOR MUNDI has made him more known in the recent years

His Mona Lisa has become one of the most recognized paintings in the history of art, and was insured as for $100,000,000 in 1962, which translates to $852,000,000 in 2019. A magnificent work, it nonetheless attracted less attention than the Salvatore Mundi, when it went up at auction in 2017.
The Salvatore Mundi was sold for $450.3 million on November 15, 2017 at a Christie's auction to Prince Badr bin Abdullah. It set the record for the most expensive painting ever sold in a public auction.

Since its cancelled appearance at the Louvre Abu Dhabi there is no way to currently view the work (that is unless you are a personal friend of the current owner). Hopefully it will be displayed again to the public in the near future.