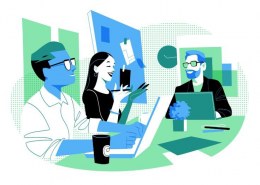 Serial entrepreneurs are people who start many new businesses in a short period of time. This is a business person who tends to constantly pursue new ideas and work at the same time. Every business owner has his own ideas and insists on his own business to ensure that he grows and becomes the best among his competitors.
They are also some entrepreneurs who have proposed business ideas and handed them over to others to continue and move towards new ideas and new companies. Not everyone can create amazing things with the new ideas they get, or not everyone has the ability to run multiple businesses at the same time.
Serial entrepreneurs who have started multiple businesses may continue to grow or maintain them by outsourcing work to teams or choosing to sell them and focus their profits on new businesses.
It's not new that people start businesses, fail and then try again. There is no particula number of businesses that someone has to start to be considered a serial entrepreneur, but minimum may be three or do all the businesses have to succeed or produce profits. However, serial entrepreneurs have at least a multiple of significant and enduring successes to their credit.
Serial entrepreneurship requires a unique perspective. Like all successful business owners, serial entrepreneurs must see the problem of demand and then provide a solution to meet the demand. They need to be able to identify unique problems based on raw data and understand whether the market is large enough to conduct business. Serial entrepreneurs can see through trends, understand the market, and realize the demand for specific products or services in order to expand their business or create new ones.
Examples of few serial entrepreneurs are Oprah Winfrey, Jeff Bezoz, Warren Buffet, Elon Musk and several others.