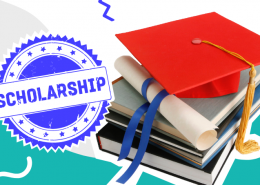 Do you want to study abroad? Then you're already aware that tuition and living expenses may rapidly mount up to a sizable college budget. Scholarships, fortunately, provide the critical financial assistance that so many students require. This is the reason you need to get a scholarship to study abroad.
What is a scholarship?
A scholarship is defined as "an amount of money granted by a school, college, university, or other organization to pay for the studies of a person with high talent but little money" by the Cambridge dictionary. I'd want to add that certain scholarships are more flexible, enabling all students to apply regardless of academic ability or financial situation.
Scholarship is a bit different from Grant. Scholarships and grants are both forms of gift aid, which means students do not have to repay the funds. However, grants are typically based on need and are regularly awarded to young people who cannot pay the price of their studies. Most scholarships, on the other hand, are granted based on intellectual, athletic, or creative talents once you know how to work your way.
Who can apply to get scholarships?
PhD students: if you are pursuing a PhD, you have a strong chance of being financed. At this stage in your academic career, you may be a great addition to your institution by assisting them with teaching and research. You can also receive a fellowship award, which means that universities, businesses, people, or governments will fund your study. This is especially frequent if you pursue a PhD in a technological field that is of interest to numerous firms.
Master students: as a Master student, you have earned valuable expertise and can assist a lecturer or the administrative staff at your university. This generally entails around ten hours of work each week in exchange for free education. The actual amount will vary according on the university; some may even cover your living expenses, while others may pay you a regular wage.
Academically talented students have a greater chance of receiving a scholarship to study abroad, especially if they also perform well on the requisite entrance examinations. This is especially true if you apply to a university that is not at the top of the rankings, as attracting excellent students can help them improve their rating.
Students with a unique skill: Many colleges, particularly in the United States, provide scholarships to individuals who are exceptionally talented in athletics, music, or other fields, since such students may assist to improve the university's team and put the institution on the map if they become well-known.
Poor students: one typical criterion for scholarships to study abroad is the student's family's economic situation. Many scholarships are designed to assist low-income students in obtaining a decent education, whereas students from more affluent households are expected to support themselves. Many prestigious universities, such as Harvard, have extensive financial assistance schemes with predetermined amounts that you can get based on your family's income, with virtually all of your tuition price paid if you come from a low-income household. The primary issue here is just being admitted into these colleges in the first place.
How can you apply for a scholarship?
Begin preparing your paperwork after you've identified a scholarship to study abroad for which you may apply. A typical application procedure is as follows:
Fill out an online application form to apply for the scholarship.
Check your inbox to ensure that you have got the confirmation email.
Make a personal statement or write an essay. There are plenty of models on the internet, but remember to stand out by sharing your unique experiences and thoughts.
Obtain formal documentation of your academic, athletic, or creative accomplishments. Translate the paperwork if necessary — which is generally the case.
Alternatively, obtain formal documentation of your poor income or nationality (for region-based scholarships).
Check all papers for mistakes before sending them to the scholarship provider.
Submit the university's admission letter (or an official document from the university showing your admittance). You will not be eligible for the scholarship unless you indicate that you will commence studies.
Wait for the outcomes. Congratulations if you were chosen; you are a winner! Throw a party, but don't spend all of your scholarship money on it. Just joking; your tuition is generally paid straight to the university or institution (or a part of it).
Here is a video to guide you, the type of scholarship to apply to and how to do this.