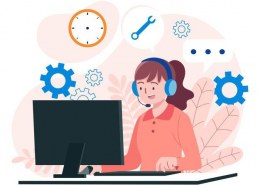 Customer service is the face-to-face interaction between the consumer purchasing a product and the representative of the business selling that product. Most retailers consider this face-to-face interaction an important factor in ensuring buyer satisfaction and incentivizing customer loyalty.
It is important to provide an incredible customer service if you want to keep your customers and develop your business. Customer service is more than telephone support staff. It could be by email, web, text messages and social media. Many companies also provide self-service assistance, so that guests can find their responses at anytime of the day.
The importance of customer service can't be overemphasised, let look at the importance of it;
1: Customer service is important because it's sets you apart from your competitors. It can keep people loyal to your brand, products, and services for years to come.
2: Profitability is king in any business, The main reason why customer service is important is because it increases revenue. If there's good service there'll be more patronage. 3: It is an effective way for customers to continue purchasing products. Also it's cheaper and more effective than advertising or marketing to people you don't know.
3: When you ignore the needs of your customers and you don't focus on what is bothering them, you are shortening the chances of longevity in your business. With so many duties and responsibilities, you should focus on your core customers if you are serious about your business. Because without them, you don't have a business at all.
4: If your customers are satisfied, they will tell it to their family, friends and colleagues. In fact, Think about what happened when you recently had a positive experience with the brand. Did you tell your family or friends about it? Your customers have the potential to be the biggest supporters of your brand, as long as you give them a reason to be.
How well you treat your staff will affect how you treat your customers, whether positive or negative. They should learn business ethics and how to deliver well to a customer. You need to make your employees smile, respond intuitively to their needs and they'll make your customers number one.