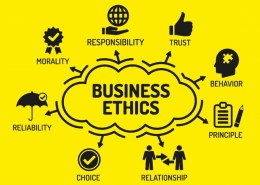 Business ethics refers to the system of ethical principles and rules applicable to business. As a social subject, business activities will not be carried out in a way that harms the interests of society and the business sector itself. Each profession or group has formulated the rules for its members.
Business ethics is important to all businesses, they ensure worker's safety, help companies maintain honesty and fairness in trade and interactions, and generally provide better goods and services. Distinguishing what a company will represent and what it does not represent is not always the same for all organizations, but understanding basic ethical principles is a key part of business management.
Importance of BUSINESS ETHICS
1: Business ethics help ensure the good reputation of your company. Not only does it feel good to be a member of a prestigious company, it is also good for business. When you have a reputation for consistently complying with ethics in the way you purchase and manufacture products and treat employees, customers, and communities, more people will be willing to do business with you.
2: Companies that practice good business ethics face less risk of fines and other legal issues. Of course, laws and regulations are complicated, but as long as you do some morally correct things, you can avoid many problems. By making business decisions with this in mind, you can avoid the pressure of having to defend your business due to litigation and fines.
3: Business ethics guarantees the development of the company. As long as an entrepreneur strictly abides by the code of ethics, a specific business sector will definitely develop. The company cannot be managed in a way that isn't conducive to the interests of the society or the company itself. Therefore, the development of a company should have certain business ethics.
4: It'll make employees to be more motivated to work because they feel that doing so will make the world a better place. Therefore, if you want normal profits to continue to rise until you make a lot of money, you must make your business fully ethical.
5: A reputation based on good ethics helps to establish a positive image in the market. This in turn makes customers trust your products and services. They also pass on information to your friends and family, thus creating more customers for you.
If you want your business to thrive for a long time, running an ethical business is essential. Business ethics and profits are mutually reinforcing. A company that is ethically oriented and wants to dominate its market segments can reap many benefits. However, unethical businesses are doomed to fail even if they start out with a record of high profits. Morality is making relationships better and stronger.