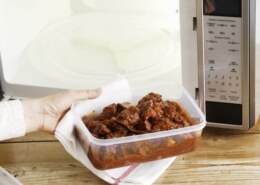 We have all heard of how microwave food removes certain nutritional values, but is this true? Is there anything bad about the food behind the microwave glass? There is no risk of microwave radiation, but there is a danger of heating plastic. When food wrapped in plastic is heated in a microwave oven, carcinogens are produced in the food.
Microwave can slightly reduce the nutrient content of certain foods, but it is not enough to have a major impact on your health, vitality, or longevity.
Microwaves are a safe, effective and highly convenient cooking method. There is no evidence that they can cause harm-and there is evidence that microwaves are even better than other cooking methods in preserving nutrients and preventing the formation of harmful compounds, Unless indicated as safe to use, do not overheat or overheat food, or heat anything in a plastic container. Store food in plastic containers and transfer it to glass or ceramic containers before microwave processing

Microwave radiation is completely harmless. Microwaves use low-frequency electromagnetic radiation-the same electromagnetic radiation used in light bulbs and radios. When you put food in the microwave, it will absorb these microwaves, which will cause the water molecules in the food to vibrate, creating friction and heating the food. All forms of cooking reduce the nutrients in food. When heating food, some of its water will evaporate and absorb some nutrients.
The microwave is a convenient, easy to use, and a super quick way to heat up your leftover foods, but there are some foods that should never heated;

1: Anything with bread,this includes items like burgers, sandwiches, and cabs.

2: Peppers; Chili peppers, especially the really spicy ones, contain high levels of capsaicin, When exposed to the electromagnetic waves it begins to smoke and can be prone to catching on fire.

3: Potatoes: Potatoes lose their nutritional value if reheated. If they are left at room temperature for a long period, they can cause nausea or illness, and even food poisoning.

4: Carrots: If carrots are not washed properly and have any residue of dirt, the minerals in the soil can cause sparks in the microwave.