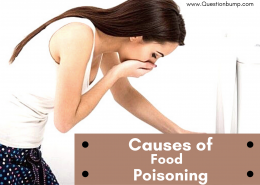 Food poisoning is a disease caused by eating contaminated food. Usually the condition is not serious, and most people get better within a few days without treatment. These symptoms may only be related to vomiting or diarrhea caused by the gastrointestinal tract, or may involve other organs such as the kidneys, brain or muscles.

SYMPTOMS OF FOOD POISONING

The symptoms usually begin within one to two days after eating contaminated food, although they may begin at any time from a few hours to a few weeks later. It includes;

diarrhea
vomiting
Abdominal pain
fever
headache
CAUSES OF FOOD POISONING
Most times you will never find the exact cause. Yes, because you are likely to become better on your own. If you do not take measures to kill or slow down the growth of microorganisms in food, microorganisms may cause food poisoning. If people do not cook food thoroughly, keep cooked food hot or quickly refrigerate or freeze food that will spoil, microorganisms may grow. The most common causes food poisoning may be due to infections caused by;

bacteria,
viruses,
parasites.

More than 200 infectious causes exist. Sometimes it is not the bacteria that causes the problem, but rather the toxin that bacteria produce in the food before it is eaten. Food poisoning is especially serious for young children, pregnant women and their fetuses, the elderly, and people with weakened immune systems, and can be life-threatening.

FOODS THAT CAN CAUSE POISONING

1: Chicken, beef, pork and turkey.

2. Fruits and vegetables.

3; Raw milk and cheese products.

4: Eggs

5: Seafood and raw shellfish. …

6: Raw flour.

PREVENTION OF FOOD POISONING

The foods that cause this may be different, but many of the food safety tips for preventing food poisoning are the same.

1; Wash your hands thoroughly with soap before and after preparing meals, as well as after handling different meals

2: Don't Keep raw and cooked meal together at all times.

3: Use a different cutting boards for raw meats and vegetables.

4: Hot foods should be maintained above 140 degrees F, and cold foods should be stored below 40 degrees F.

5: Refrigerate leftovers instantly.

6: Avoid meals that have been kept at room temperature for more than two hours.

7: Be careful about perishable foods and in instances when you are uncertain when the food was prepared and for how long it has been stored at potentially improper temperatures.
In as much as meals are important for us to perform better, one must be cautious of what he/she takes in