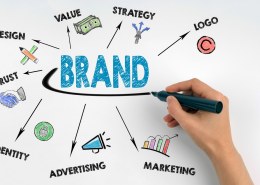 Personal Brand is a word that we are quite familiar with. First, I want to ask you a question, What do you want to be known for? If someone mentions your name, company or brand, what do you want them to say?

Take your time to think about that.
What is a BRAND?
A brand is everything that distinguishes you from the crowd, from name to your dress sense and so on. Your brand is what make you unique. No matter how many other people imitate your ideas and products, you will always stand out.
What is personal branding?

It is an ongoing process that develops and maintains the reputation and impression of an individual, group or organization. Your personal brand is a way to promote yourself. A unique combination of skills, experience and personality that followers want to see. Telling your story and the impression people get from my online reputation.

Branding yourself isn't a one-time deal. Can't do it for 6 months. This is an ongoing process of developing and managing your image through tactics such as social media marketing strategy, public speaking and more. That is, you have to stay in it for a long time.

Personal branding requires work and time, but it is a great way to help you stand out from the crowd and attract the attention of potential employers, customers, and collaborators. Here are a few reasons why Why you should build a personal brand?

1: Uniqueness:
Branding is your opportunity to show your audience what you know and why you understand it. It will help you distinguish yourself from others who may be competing for the same opportunity but have not yet taken the time to build your own personal brand.

2: More opportunities:
Your personal brand is the cornerstone of your future success. It can help you achieve a number of personal and professional goals, and it can also provide you with many opportunities for professional development

3: When you have a strong personal brand – you attract people, not the other way around. And then you have the bargaining and negotiation power

4: Personal Branding makes you earn a sense of respect and awe which you can never get as an ordinary or normal person.

5: Your personal brand is your signature & masterpiece. It's what you will known for (reputation) before you even meet someone and it will be remembered long after you are gone (legacy).

In conclusion, take the time to build a personal brand that communicates all of that to the world. It's what makes people believe that you are worth investing their time and mone