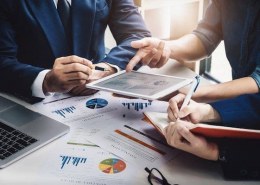 Financial analysis is the system of evaluating businesses, projects, budgets, and different finance-related transactions to determine their performance and suitability. It involves using financial data to check a company's performance and make suggestions about how it can move forward.
Financial analysts will thoroughly examine the company's financial statements: income statement, balance sheet, and cash flow statement. One of the most common methods of analyzing financial data is to calculate ratios based on financial statement data to compare it with data from other companies or with the historical performance of the company itself.
Financial analysis is one of the key tools that business managers need to verify the performance of their organization. For this reason, they constantly ask financial analysts about the profitability, cash flow, debt and other financial aspects of their business.
Types of Financial analysis
1: Vertical Analysis:
This type of financial analysis involves looking at the various components of the income statement and dividing them by income to express them as percentages. For this to be most effective, the results should be compared to other companies in the same industry to understand how that company is performing.
2: Horizontal Analysis:
Horizontal analysis retrieves several years of financial data and compares them to each other to determine growth rates. This helps analysts determine whether a company is growing or declining and identifies important trends.
3: Liquidity Analysis:
This is a type of financial analysis that focuses on the balance sheet, especially the ability to meet a company's short-term obligations (maturity less than one year). Examples are; Current ratio, Cash Ratio
Other types of financial analysis are;
Solvency Analysis.
Profitability Analysis.
Scenario & Sensitivity Analysis.
Variance Analysis.
Who is a financial analyst?
Financial analysts have a look at monetary facts and use their findings to assist agencies make business choices. Although financial analysts face some challenges, they are also a career full of opportunities, especially when choosing an industry. This is because financial analysts play an essential role in almost every area of business, so whether you are passionate about music or interested in technology, you may find the right opportunity for you.