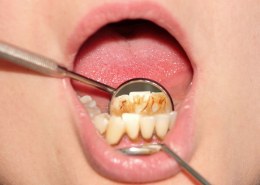 Gingivitis is an inflammation of the gum that is caused by poor oral hygiene, it causes irritation, redness and swelling of the gingiva (gum).

In the early stage of bacteria in plaque build up, causing the gums to become inflamed and to easily bleed during tooth brushing. Although the gums may be irritated, the teeth are still firmly planted in their sockets

If left untreated it can progress to periodontitis. 

Periodontitis, or gum disease, is a common infection that damages the soft tissue and bone supporting the tooth.

CAUSES OF GINGIVITIS

Plaque is the primary cause of gum disease. However, there are other factors that contribute to it. Dental plaque is a sticky, colorless or pale yellow film that is constantly forming on your teeth. When saliva, food and fluids combine.

Poor oral hygiene: Not brushing regularly is one of the causes of gingivitis.

Smoking: Research shows that smokers are more likely to suffer from gum disease than people who don't smoke.

Poor nutrition: Not getting enough vitamin C could be harmful to your gums. 

Hormonal changes: this happens mostly during puberty and menopause or use of birth control pills

Chronic disease: diseases like cancer,diabetes and HIV

SYMPTOMS OF GINGIVITIS
Bad breathe (halitosis)
Gums that bleed easily when you brush.
Swollen gingiva.

PREVENTION OF GINGIVITIS

Good oral hygiene: Brush twice a day in the morning and before going to bed at night with a soft-bristle toothbrush and fluoride toothpaste.
Clean both your teeth and gums with small, gentle circles, avoiding brushing too hard.
Change your toothbrush every 3 months.
You can also use a mouth rinse to flush out bacteria from in between your teeth

Eat a healthy diet: Foods low in sugar and starches can help minimize the amount of food bacteria that has to live on inside your mouth. Drinking lots of water and eating lots of water-rich fruits and vegetables can help keep bacteria flushed from your mouth.