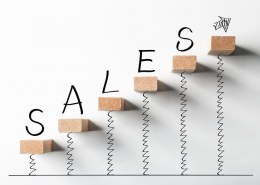 Sales is a process that leads to a transaction between two or more parties, where the buyer receives an offer and the seller receives some valuable reward, usually need to know how to sell otherwise everything is useless.
Selling indicate whether your business is meeting the demand to achieve your goals. No sales means there is a problem. Your product or service does not meet demand, or your marketing does not promote the product service properly, or the sales process needs to be adjusted, or … the list can go on.

The main and most important role of sales is to bridge the gap between the needs of potential customers and the products or services provided by your organization. Sales is a personal interaction between one person and another, and it is a very powerful thing. Never underestimate the personal connection between two people and the potential impact this may have on your brand reputation.

Sales is the most important aspect of any organization. This is the source of income. You can use high-end technology to produce any number of products, but if they are not sold to consumers, all investment will be wasted and eventually these companies will liquidate, you start selling your products, revenue will come, and you can invest in your business and then expansion. This is how you grow. Therefore, no matter what you sell, be it products or services, sales are the most important thing to the company.

The sales function of any business is vital and is truly the only revenue generating department in any organization. If there are no sales, you have no employees to manage, there are no projects to develop, there are no funds to deal with, there is no compliance, etc. Whenever a sales transaction takes place, the organization moves; accountant can record funds, fulfillment can start production, delivery can schedule delivery and installation, etc. All of these must be sold, otherwise you will lose money.

In summary, the power of selling in the continued success of an organization cannot be underestimated. Take advantage of the potential impact of selling not only on revenue, but also on brand reputation, long-term customer retention, and business growth.