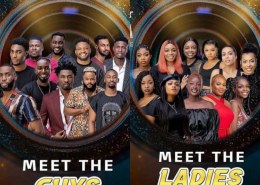 The #BBnaija season 6 started last week 24th of July 2021. It has been trending on quite a lot of social media apps. As usual 22 housemates got the opportunity to be in the big brother Naija #Shineyaeye house.
We have 11 females and 11 males respectively from different places in Nigeria in this #BBnaija season 6.
These are the #BBnaija season 6 housemates:
Maria Nini Pere Niyi Boma Whitemoney Arin Yousef Tega Saga Angel Princess Emmanuel Peace Jackie B Beatrice Saskay Boma Cross Yerins Jaypaul Liquorose.
On 26th of july, which was the third day the housemates have been in the house they had their first diary session and they all got the chance to talk about how they perceive the housemates and there was quite a rollercoaster of emotions.
Many haven't been away from their home in a long time.
Big brother also announced that day about WILD CARDS. Wild cards are fake housemates. They know they are fake housemates but the two do not know each other. Pere and Maria were the WILD CARDS.
The Head of House game took place last week Saturday and the first Head of House in the #BBnaija season 6 was Yousef and he picked Peace as his Deputy.
Another Head of House game took place yesterday and Boma won, he picked Jackie B as his Deputy.
After successfully playing the wildcard game, Pere and Maria have a nomination Edge which gives them the power to nominate 4 persons each.
They were the only ones who nominated on 2nd of August.
Maria mentions Beatrice, Yerins, Jaypaul, WhiteMoney
Pere mentions Beatrice, Yerins, Niyi, WhiteMoney.
Housemates up for possible eviction are : Beatrice Yerins Jaypaul Niyi WhiteMoney.
Boma as HOH has the veto power to save a nominated HM, and replace with another HM not currently nominated. He replaces Yousef to save Jaypaul.
The nominated HM up for possible eviction are : Beatrice Yerins Niyi WhiteMoney Yousef Boma chooses Jackie B as his Deputy Head of House.
After the housemates knew Pere and Maria are the WILD CARDS there has been uproar Who will be going home this weekend?
The game has just began! You can always vote for your Favourite housemates on the DSTV website.