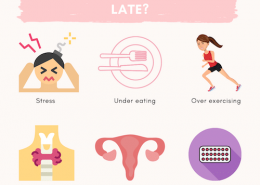 Concerned about a missed period but certain you're not pregnant? Missed or late periods occur for a variety of causes other than pregnancy. Common reasons range from hormone abnormalities to life-threatening medical disorders.
In addition, there are two occasions in a woman's life when it is quite natural for her period to be irregular: when it first begins and when menopause begins. Your usual cycle may become erratic while your body goes through the adjustment.
The majority of women who have not achieved menopause get a menstruation every 28 days. A healthy menstrual cycle, on the other hand, might last anywhere from 21 to 35 days. If your period falls outside of these ranges, it might be due to one of the following factors.
Low body weight
Missed periods are common in women suffering from eating disorders such as anorexia nervosa or bulimia. Weighing 10% less than what is deemed typical for your height might disrupt the way your body operates and even stop ovulation. Getting therapy for your eating problem and gaining weight in a healthy way can help you get back on track. Women who engage in strenuous activity, such as marathons, may have a cessation of their menstrual cycle.
Stress
Stress may disrupt your hormones, disrupt your daily pattern, and even alter the area of your brain that regulates your period – the hypothalamus. It can cause illness or rapid weight increase or loss over time, all of which might disrupt your cycle. If you suspect that stress is interfering with your menstruation, consider practicing relaxation methods and adopting lifestyle adjustments. Including additional exercise in your routine may help you get back on track.
Birth Control
When you start or stop using birth control, your cycle may fluctuate. Birth control tablets include the chemicals estrogen and progestin, which inhibit egg production in your ovaries. After discontinuing the pill, it may take up to six months for your cycle to return to normal. Other kinds of implanted or injectable contraception can also cause missing periods.
Early Peri-menopause
Menopause usually begins between the ages of 45 and 55 for most people. Women who start symptoms at the age of 40 or earlier are said to be in early peri-menopause. This indicates that your egg supply is diminishing, which will result in missing periods and, finally, the cessation of menstruation.
Chronic disease
Diabetes and celiac disease, for example, might have an impact on your menstrual cycle. Changes in blood sugar are connected to hormonal changes, thus even though it is uncommon, poorly managed diabetes can induce irregular periods.
Celiac disease causes inflammation in the small intestine, which may hinder your body from receiving essential nutrients. This might result in missing or late periods.
Obesity
Being overweight can trigger hormonal changes in the same way as being underweight may. If your doctor determines that obesity is a cause in your late or skipped periods, he or she will prescribe a diet and exercise regimen.